May 22nd, 2020
IN-PERSON WORSHIP SERVICES
Holy Communion will be celebrated in both services
Saturday - June 6 @ 5:00pm
Sunday - June 7 @ 9:30am
Registration required as attendance is limited due to social distancing restrictions.
Registration will be open Friday, May 29th. Visit dsomaha.org or call the church office @ 402-895-1500 to register the service time you plan to attend.
Family units will sit together keeping a 6 ft distance from others. The nursery is temporarily closed.
Mask wearing is at the discretion of the individual.
Sanctuary and facilities will be thoroughly sanitized.
Bring a Bible and Lutheran Service Book if desired. Touchable items have been removed from pews.
Offering baskets provided as you enter/exit service.
Social gathering is not permitted in the building before or after services.
Those who are sick or at risk should continue to worship online: Saturday @ 5:00pm - Modern, Sunday @ 8:00am - Traditional & 9:30am - Modern all services available for playback.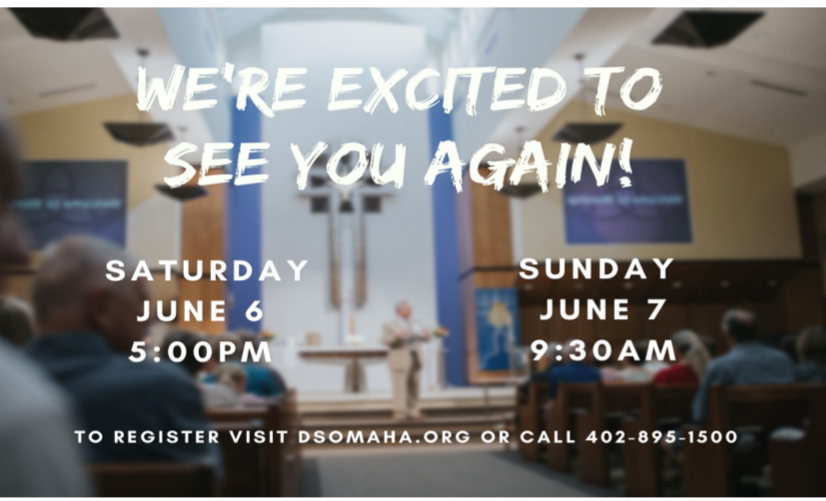 ---
May 15th, 2020
Plans to Reopen June 6/7
Lord Willing (see James 4:13-15)
We are working on details for opening the church doors for in-person worship again. Like many other churches in our community, we will not be opening yet, as much as we would like to, but we are working on plans to invite God's people back to in-person worship the weekend of June 6 & 7. We intend to begin with in-person services Saturdays at 5pm and Sundays at 9:30am. The 8am Sunday service will continue to be live-streamed. The issue we are facing is sanitizing the sanctuary after each service. The in-person services will be limited to 150. Attendees will be able to "reserve seats" online or by calling the church office. Be watching for more details. Know that your church leaders and staff are taking great care in this preparation process.

Pray for the end of this pandemic. Pray for those most impacted by this disease. Pray for the frontline workers. Pray for your brothers and sisters in Christ. Pray for your leaders and staff. Pray for those in our community and those who are being reached around the world by our online messages who don't know Jesus and that we can reach them with the Gospel in these days of challenge and opportunity. 
---
May 1st, 2020
Planning to Reopen Soon!

With the relaxing of restrictions for public gatherings announced by our governor, we are working on timing and details for opening the church doors for in-person worship again soon. We, like many other churches in our community, will not be opening on Mother's Day weekend as much as we would like to, but we are working on plans to invite God's people back to church later this month. There are many details to work out.  Larger congregations face greater challenges when it comes to the social distancing requirements. Please pray for your congregational leadership and staff during this time as we pray for you.  Most of all, pray for those in our community who don't know Jesus and that we can reach them with the Gospel in these days of challenge.  May the Lord grant us all patience, perseverance, hope, safety and a peace that passes all understanding.  Be watching for more announcements and details
**************************************************
DSLC and LLPC are closely monitoring the developments surrounding the coronavirus also known as COVID-19.
We are encouraging staff, the DSLC congregation and LPCC families to follow the recommendations posted on the websites of the CDC, NE Dept of Health & Human Services and Nebraska Medicine.
**********************************
In keeping with the directive to limit public gatherings to 10 or less, starting with our Midweek Lenten service this Wednesday, March 18, we will be going "online only" for our worship services.  We will be live-streaming the 4:00pm service on Wednesday and then posting it on our website right after the service for anyone to view as they wish. Beginning this weekend, we will livestream the worship service at 9:30am and post it on the website immediately following.
Just click Watch on our website, dsomaha.org
---
A Message From Pastor Hannemann
Wednesday of Holy Week, 2020
Holy Week Message from Pastor Mark Hannemann

Holy Week is upon us. This may be a difficult week for us, but it was far worse fpr Jesus. This week we walk with Jesus through the events of that week long ago: his triumphal entry into the Holy City, his time with his disciples in the Upper Room, his betrayal by Judas, his agony in the Garden, Peter's denial, his mock trials, his crucifixion, his burial and his triumphant resurrection. "Because I live, you shall live also" (John 14:19b). Those are the words of Jesus. That is the hope of Easter. Because Jesus lives, we too shall live. Death does not have the final say. The Coronavirus does not have the final say. In 1 Corinthians 15 Paul declares that because of Jesus, death has lost its sting, because of Jesus, death has been defeated (1 Corinthians 15:55-57).
As far as I know, this is the first time in our nation's history when churches, for the welfare of all, have been asked to close their doors at Easter time, although there were terribly rough days in 1918 due to the flu pandemic that claimed some fifty million lives worldwide, 675,000 in the United States and 974 here in Omaha. With all the advancements in medical science, we start to think we are invincible. We start to think that we can cure anything or fix any problem. And we get upset if the treatment, the vaccine or the cure doesn't come quick enough.
When he should have been graduating from high school in 1952, my uncle Donny, at age 18, died of a virus—the poliovirus. The remedy for polio was a long time in coming. Medical historians believe that the ancient Egyptians were contending with polio in their day. Waiting some 5,000 years for a vaccine that finally came in the 1950s is an awfully long time to wait. We, as human beings, are vulnerable to all kinds of threats to our health, our well-being, our very existence. Jesus came into this dangerous world, knowing full well what kinds of threats he was facing. It was no accident that he came. It was on purpose, hard as that might be to believe. It was his Father's will that he come and bear the suffering that we had coming to us because of our sins and our rebellion against God. More than the desire of the religious authorities or the intention of the Roman authorities, it was Jesus' determination to suffer for us, to go to the cross for us, to suffer hell for us, to shed his blood for us.
Paul Gerhardt, the great hymn writer, put it this way in his Lenten hymn:
A Lamb goes uncomplaining forth,
The guilt of sinners bearing;
And laden with the sins of earth,
None else the burden sharing!
Goes patient on, grows weak and faint,
To slaughter led without complaint,
That spotless life to offer;
He bears the stripes, the wounds, the lies
The mockery, and yet replies,
"Willing all this I suffer." (LSB 438)
While the Coronavirus takes your breath away literally or figuratively, nothing takes our breath away more than the love Jesus has for us, the commitment he demonstrated to us, the life of love he wants to live out through us.
It saddens us that we are not able to come together as the people of God right now, especially during Holy Week, to worship together, to receive the Lord's Supper together, to journey to the cross and the empty tomb together. Perhaps we are catching a glimpse of what it was like for those first disciples who were in fear and in hiding in those days.
We pray that the Lord intervenes and cuts short these current days of fear, of quarantine, of hiding, of face masks, of six foot distances, the days of no gatherings, no handshakes or hugging, the days of infection numbers and death counts. We pray, Lord, have mercy.
We will be together again. We will gather for worship again. We will commune again at the Lord's Table. We will embrace again. We will eat donuts and drink coffee together again. That will be a great day! Christ has died. Christ is risen. Christ will come again.
May the grace of our Lord Jesus Christ, the love of God and the fellowship of the Holy Spirit be with you all.
A most blessed Holy Week and Easter to you and your loved ones.
Tuesday, March 17, 2020
********************************************
This is the day the Lord has made;
let us rejoice and be glad in it.
Psalm 118:24
********************************************
Dear Members and Friends of Divine Shepherd,
Things have been changing rapidly in these last days. With the CDC now recommending no public gatherings of more than ten people, we are compelled to discontinue gathering for worship services at this time.  No one could have imagined it coming to this, yet this is our current reality and we, by the grace of God, are going to make the best of it and do all we can to share the love of Christ with a world that needs hope in the face of challenging times.
Beginning with tomorrow's Lenten services, we will be having online services only.
Online Worship Schedule—
Lenten service Wednesday, March 18 at 4:00pm at www.dsomaha.org and click "Watch Live"
Our Sunday livestream services will begin at 9:30am starting this Sunday, March 22
These services will be archived on the website right after broadcast for your viewing at any time
Bible studies, our Midweek Program, rehearsals, other activities, events, meetings and gatherings at church have been cancelled until further notice. We are working on how to take some Bible studies online. Be watching for more information.
Right now our Little Lamb Preschool & Childcare is still operating as they are able to manage the numbers in their classrooms according to State requirements with the decreased attendance we are experiencing.
---------------
In the midst of a lot of uncertainty, one thing is certain, our heavenly Father loves us with and everlasting love which he demonstrated in sending his one and only Son, Jesus into this broken world to be our Savior, our Lord, and our shelter in the storm.  His death and resurrection mean life and peace for all who trust in him.  He will never leave us nor forsake us.
If you have any questions or need help in these days from your pastors, staff, elders or church family, please get in touch with us at the church number, 402-895-1500.  The office is open Monday-Friday 8:30-4:30 and your staff is on duty to serve you.
What can you do?
Pray. Pray to the Lord for mercy, protection, guidance, preservation, peace, patience, endurance, wisdom, healing, comfort, joy…
Continue to support the work of the Lord with your faithful tithes and offerings:

Mail in your offering or drop it by the office
Give online at www.dsomaha.org, click "Give"
Set up automatic giving through your bank
Text your gift to 402-316-7945

Share the love of Jesus with others in word and deed
Be watching for more information and emerging developments.
Grace and peace,
Pastor Mark Hannemann
---
Informational Links
CDC | NDHHS | Nebraska Medicine