At Divine Shepherd we recognize the great efforts some organizations in our area that are helping with flood relief in various ways.
Samaritan's Purse - Volunteer Labor On-Site
Mucking houses, cleaning property, etc.
Orphan Grain Train - Online Donations
An international relief organization in the middle of a local disaster
Salvation Army - Donated Items
The Disaster Resource Center (old Canfield's at 84th & Center) continues to collect donations

Samaritan's Purse will accept Local/Day Volunteers at their Fremont headquarters Monday - Saturday through April 20th. Pastor Sean and others here at DS will be leading some teams, but others are encouraged to make their own plans to volunteer as they see fit.
Day Volunteer Information - Start Here
Contact Pastor Sean for more info on DS trips: sean@dsomaha.org
Read from the Samaritan's Purse Response Page
Please note - to expedite the on-site process and get you to the job-site quicker please register online before your first trip.
They also need some supplies at the work site. You may choose to donate some of these items when you volunteer:
~ 3 Mil heavy duty trash bags - 30-40 gallon size
~ Masks - must be N-95
~ Gloves - with rubber palms
---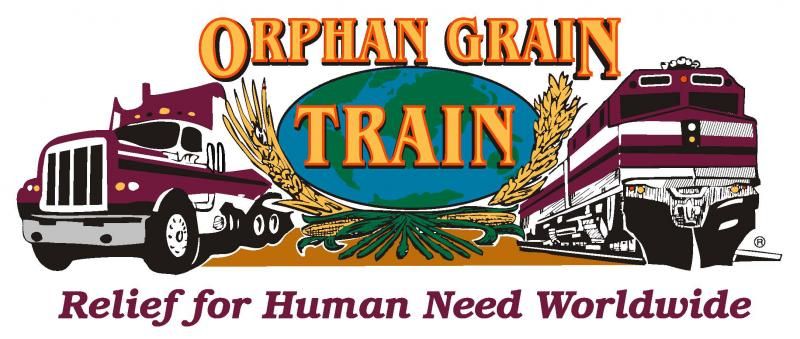 We have a long relationship with international relief organization Orphan Grain Train, based out of Norfolk, NE, in the middle of the worst of the flooding. They are also responding to this local relief effort in a variety of ways.
Start Here - From the OGT Website
You are encouraged to donate online at www.ogt.org or contact them with questions:
402-371-7393 or info@ogt.org
---
Be in prayer for those affected
We fervently pray for all of our brothers and sisters around the state for the loss of property and loss of life, and for all those attempting to assist those in need.
You are welcome to use the following prayer provided by the LCMS Nebraska District:
We pray: Gracious Lord, Creator of the heavens and the earth, the sea and the sky, and all that lives and breathes within them: we thank you for all these good gifts and how they have benefited us in our lives.  Because of the curse that you so rightly leveled against us on account of sin, frustration and calamity befalls us. Be with us through these storms, help us to weather them while faithfully turning to You for all that we need. Raise up your people to respond with generosity, love, and support. Sustain those who have been displaced by storm or flood and give them hope in the reminder that though they suffer in this present time, their troubles are not worth comparing with the glory that will yet be revealed in us because of your Son, Our Lord Jesus Christ.  In His name we pray, amen.
---
Support the Salvation Army - Donations
The Salvation Army continues to collect items, donations and labor for those in need due to the record flooding in our area.
The Disaster Resource Center (old Canfield's at 84th & Center) continues its operations and maintains its presently-scheduled hours until further notice:
Mon-Sat 9 a.m. to 6 pm
Sun 12 pm to 5 pm
Here's the latest list of needed items: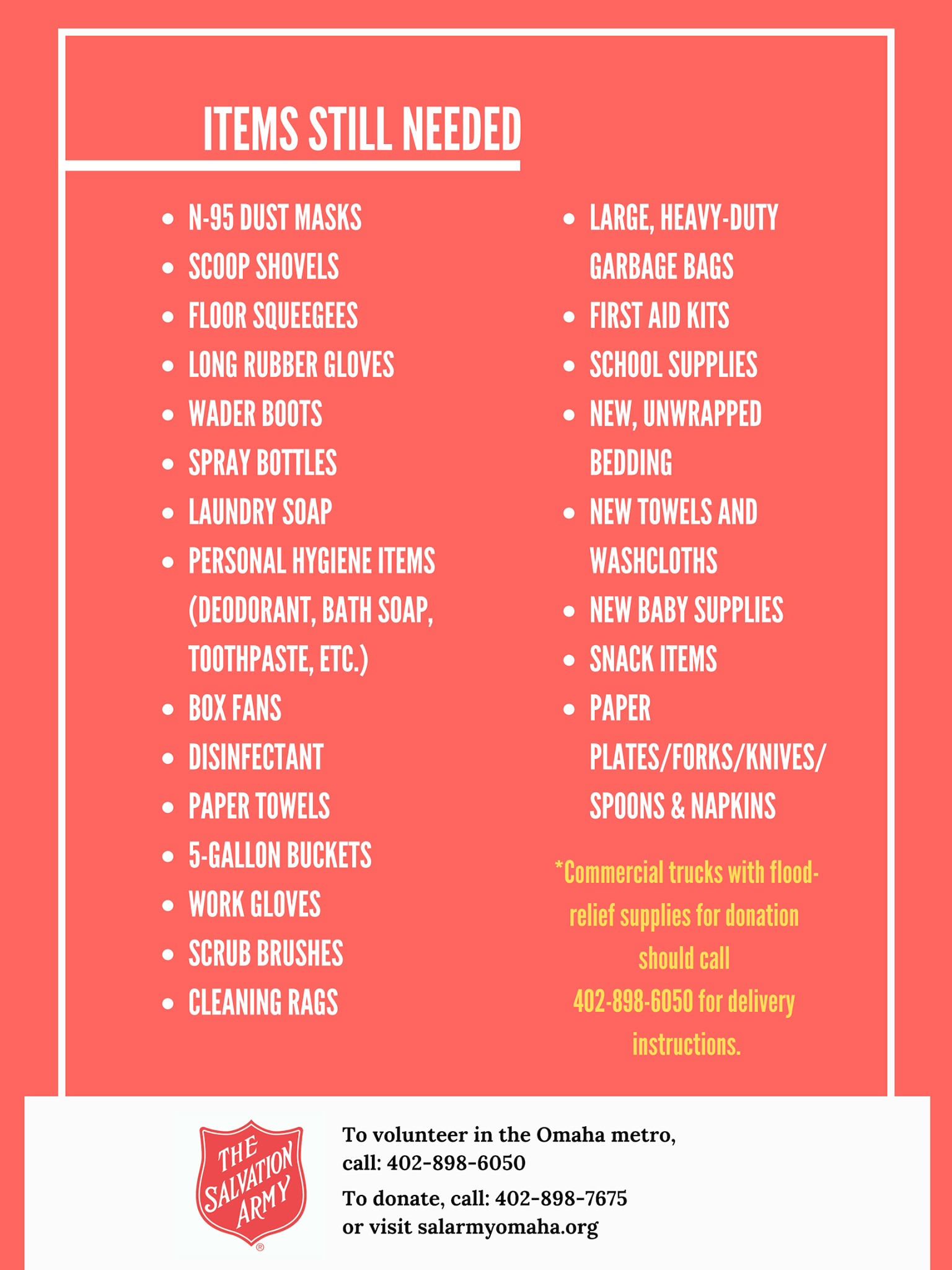 ---
For up-to-date information on what's going on follow The Salvation Army of Omaha on Facebook:
To volunteer for flood relief: 402-898-6050 or www.registertoring.com
To make monetary donations: tinyurl.com/y4a9ma7j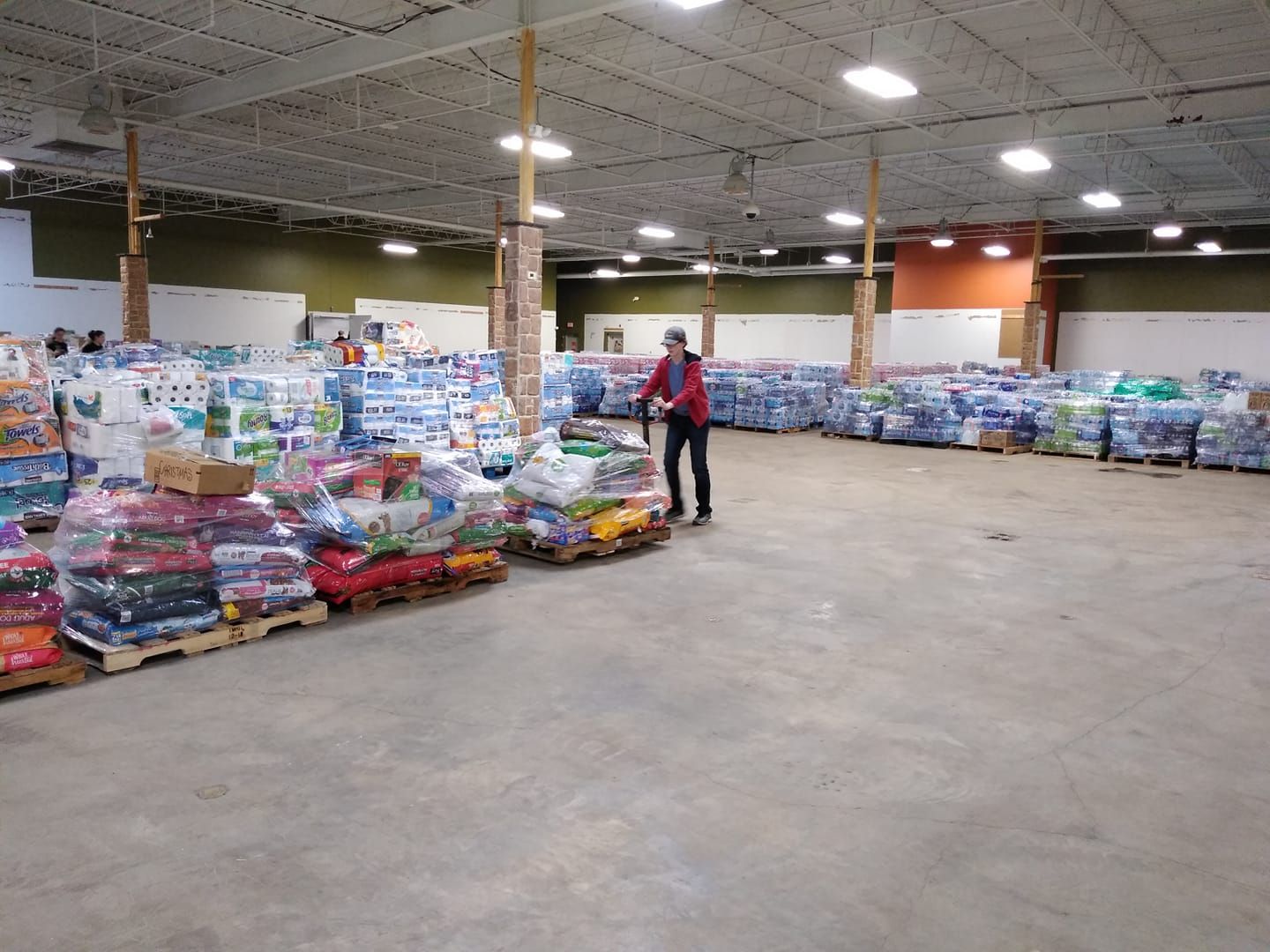 DS Youth Ben Miller volunteering at the collection center at 84th & Center.
Photo source: Darin Miller via Facebook
---
Around the state
Read about a fellow Lutheran from Columbus who died trying to rescue others.
Read a message on other ways you can help from the Nebraska District LCMS office.