In 1973, a group of eight families from two local Lutheran churches struck out in faith to plant a new congregation in a corn field in the burgeoning town of Millard, NE.  Now, 45 years later, that same congregation, Divine Shepherd Lutheran Church, is seeking to plant new "Seeds of Hope" in a soybean field about three miles away.

The Latest
After a thorough review of project needs, solutions and congregational input, including 17 focus group meetings, a favorable feasibility study was delivered to the Board of Directors. On June 19th the group unanimously voted to immediately begin the "Seeds of Hope" Capital Campaign and form a steering committee.
From Pastor Mark
Continuing to extend the impact and influence of the Gospel message to this part of Omaha is an important part of the aggressive vision of the church.
"This initiative is critical to the continued growth and outreach of a church that has a long history of reaching into the community.  We are excited to see what the Lord has in store for our new Family Campus as we take another leap of faith and plant Seeds of Hope in a new, promising location."
Consultant
Divine Shepherd continues to retain James D. Klote & Associates to assist and guide the "Seeds of Hope" Capital Campaign initiative.  Consultant Dan Reese is providing full-time, resident service for the duration of the campaign.
"I am honored to be part of this excellent vision to see the Gospel expand in this part of the state.  I have been very impressed with the many years of planning and thorough consideration given to this project by so many."
-Dan Reese
Dan states in the Seeds of Hope Feasibility Study:
"The case has broad representative support within the congregation… There is a good spirit among the people and they are ready to move forward."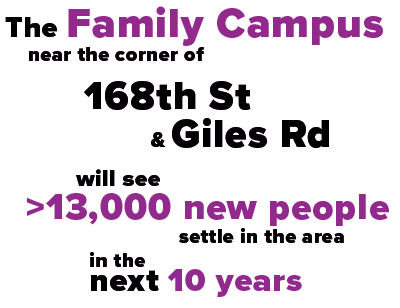 The Vision
The Seeds of Hope Capital Campaign seeks to fund four unique projects - all of which are pressing needs that align with our mission and directly affect our community and state.
Family Campus
There exists a very real and growing need for quality, Christian child care in the increasingly developed area between Millard and Gretna.
In an effort to engage with this growing community Divine Shepherd plans to develop this 15 acres of farm ground with programs focused on supporting families. First, establishing a Christian child care center. Then, as the property continues to develop, additional features such as outdoor sports fields and even a new satellite worship location for Divine Shepherd could be added. 
All construction at the new Family Campus is part of a master plan produced over the last year in partnership with BVH Architecture, a local company with extensive background in religious and educational structures. The greenfield location, already owned by the church, will see extensive infrastructure development before construction begins.
Little Lamb Preschool Re-imagination
In addition to constructing a new facility at the Family Campus, Divine Shepherd's main campus at 15005 Q St. will be renovated to add a daycare option to the Little Lamb Preschool which has been in operation since 1984.  This will enable working parents to have child care options throughout the day, which is a well-documented need in this area according to industry professionals in the congregation.
Further Considerations
While taking care of the needs at both campuses, the church Board of Directors has also committed to supporting important renovation plans at both the LCMS Nebraska District Office in Seward, NE and the University Lutheran Chapel on the campus of the University of Nebraska-Lincoln. Learn More