Cloverton is coming to Divine Shepherd - Tuesday April 10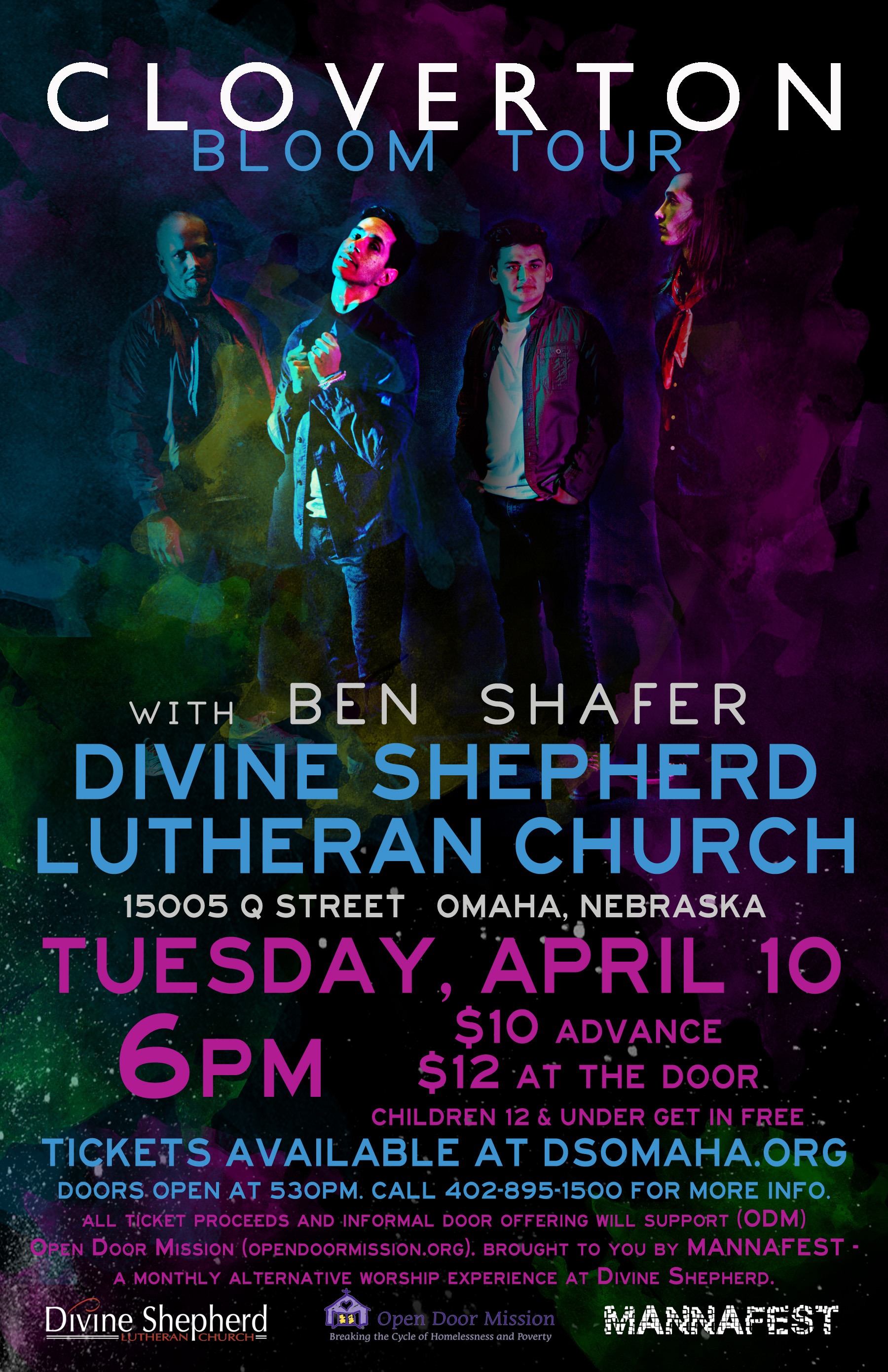 Local artist Ben Shafer will be the opening act - 6pm.
(Proceeds benefit the Open Door Mission!)
-
Follow the event on the MANNAFEST Facebook page.
-
Pick up a ticket in person at the following locations:
Divine Shepherd Lutheran Church - 15005 Q St (8:30-4:30 Daily; Sunday mornings)
GraceHill Church - 17121 Marcy St (Sunday Mornings only)
402 Arts Collective - 6051 Maple St
-
$10 In advance
$12 At the door
**Tickets are available online for $10+transaction fees.
-
Doors open at 5:30PM
-
Children 12 & under are free
-
Professional Childcare Provided
-
ALL TICKET PROCEEDS WILL SUPPORT OPEN DOOR MISSION (opendoormission.org)
-
ABOUT CLOVERTON
Without the help of a record label, Cloverton propelled onto the Christian music scene in 2011 as the first ever ROCK THE CAMP contest winners hosted by TobyMac and Camp Electric. Soon after receiving this prestigious honor, Cloverton scored the #1 most downloaded song in the history of KLOVE radio for their first single "Take Me into the Beautiful," which also charted at #12 on the overall Christian Billboard top 25. The Manhattan based band followed up that effort with an unforgettable Christmas rendition of Leonard Cohen's song "Hallelujah," reaching millions of viewers (YouTube) in just weeks while climbing to the #1 slot on iTunes and being featured on CNN, The Blaze (Glenn Beck), and several other media outlets.
The band would go on to record and release their first full-length studio album with a wildly successful crowd-funding campaign. The record "Patterns" was met with favorable critical reviews and was widely embraced by their growing fan-base. A year later, Cloverton would release a Christmas EP titled "We Sing Joy" which climbed to #1 for multiple weeks on iTunes.
From their humble beginnings as a small church worship team, to the recent release of their highly anticipated sophomore album, Cloverton continues to pave a new way for independent Christian music…
"None of us are into compromising or settling for the status quo. It's a daily choice. To what or who am I surrendering today?" front man Lance Stafford says. "We are either moving toward or away from the person God has specifically created each of us to be. Our aim is to create music that inspires, awakens, and frees the next movement of leaders, artists, pastors, visionaries, inventors, missionaries, dreamers, and teachers as they walk out that journey."